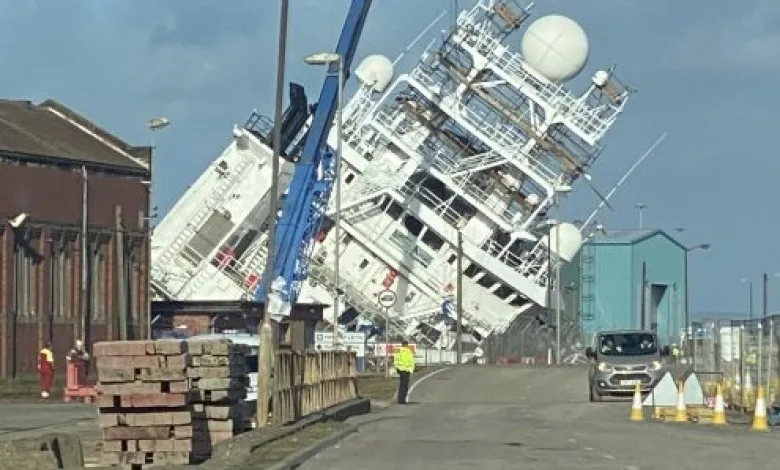 A Navy research vessel capsized on Wednesday in Edinburgh's dry dock, according to local media.
Ship Petrel According to the newspaper The Independent, it seemed to tilt roughly 45 degrees while in dry dock at Imperial Dock in Leith, Edinburgh. According to the publication, 12 people were treated at the dock and released while another 21 people were brought to the hospital with injuries.
According to a Scottish Police official, the Petrel was driven out of dry dock.
Paul Allen, a co-founder of Microsoft, owned the research vessel until his passing in 2018. The Vulcan marine research organization, which Allen created, carried on until 2020 after his passing in 2018.
As a result of the operational challenges posed by the pandemic, R/V Petrel will be placed in a long-term berth and will not be deployed for the foreseeable future. We have been charged with a monumental mission – to discover, educate and honor – and we hope to return to service at some point." Robert Kraft, Underwater Director, said in a June 2020 message:
"I am proud of the successful Petrel missions that have brought information and closure to so many families and friends of World War II heroes. I am confident that Petrel will eventually be back on duty supporting marine data collection and science."
Following the announcement, Allen's estate began liquidating Vulcan's oceanographic assets. Petrel was laid up in Scotland until the Navy bought the ship in September for $12.4 million – well below the ship's market value.
Exploring the wreck where it rests 5,000m below the surface. Volcanic photo.
Petrelunder Allen's ownership and then parent company Vulcan, was used in a number of research missions to find ship and plane wrecks. The ship was part of the team that discovered the wreckage of the first Japanese ship sunk by the US in World War II, as well as the US Navy destroyer USS Johnson and carrier USS Wasp.