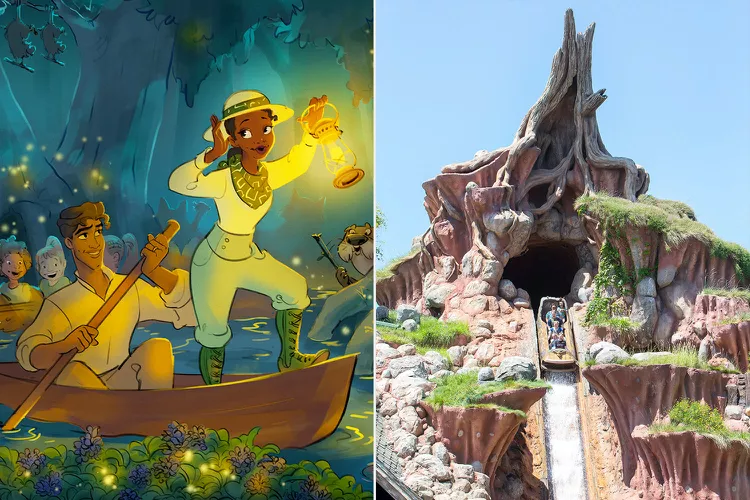 At Disneyland, Splash Mountain is about to make its final journey through the briar patch.
On May 31, Disneyland Park in Anaheim, California will permanently shut down the venerable ride, according to a Disney announcement. Tiana's Bayou Adventure will replace it when it reopens the following year.
As of Jan. 23, the attraction at Disney World in Orlando, Florida, has already been closed. (Some visitors to the park even made an attempt to make money off the ride on its final day by trying to sell water they said came from the attraction on eBay.)
Disney offered a first peek of the upcoming re-theming, which will include both characters created especially for the attraction and beloved characters from the 2009 animated film The Princess and the Frog.
With her original voice actress, Jenifer Lewis, returning, Mama Odie will also make a cameo at the attraction alongside Princess Tiana, Naveen, and the jazz-loving alligator Louis. Anika Noni Rose, the Tony Award-winning actress who provided the voice of Tiana, the first Black princess of Disney, Bruno Campos as Prince Naveen, and Michael Leon Wooley as Louis are among the other voices from the movie who will return in their respective parts.
On the new attraction, a model of which was on display at Disney's D23 conference (above), guests will travel through the bayou as they prepare to host a one-of-a-kind Mardi Gras celebration and listen to joyful songs from the fan-favorite film and new original music.
At the beginning of the boat ride, fireflies will light up the night "almost as if they're waving you forward," inviting guests deeper into the bayou, according a Disney press release.